Perhaps it was the Tylenol PM, or maybe the JMU produced food….
In the dream I was being chased by a Grizzly Bear. Somehow I managed to trick the bear into chasing after a kindly african american man and his child instead of me – while I hurried in front of them on some kind of feather-tipped, tree branch wings. Eventually, the Bear caught, killed, and devoured the slower non-winged family behind me and started after me. In my haste, i collided with a tree and was killed by the impact, or possibly the bear. Either way, i woke up.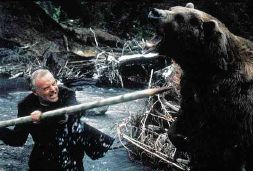 This is how I ended my "Battle of the Bear." Well, not really – there was more killing of me and slightly less killing of the bear.
——–
While finding that superb photo of a Bear, I came across this truly interesting, and lovable story of "Bart The Bear":
Biography for
Bart the Bear (I)


Height
9′ 6″ (2.90 m)
——————————————————————————–
Mini biography
Bart the Bear is perhaps one of Hollywood's most remarkable animal stars. The Alaskan brown bear was born in 1977 and was brought in by Hollywood animal trainer Monty Cox. Bart's mother was a bear who was also in films like "Grizzly" and "Day of the Animals". Bart started to train in acting in 1980 and grew to 9 feet tall, the average for brown bears.
Bart has starred in "The Great Outdoors", "On Deadly Ground" and "The Edge". Bart's co-stars included John Candy, Dan Aykroyd, Steven Seagal, Anthony Hopkins and Alec Baldwin whom all where very much impressed with how well a bear could be trained to act and enjoyed the experience with working with animals. Sadly, Bart died in 2000 of natural causes at the age of 20, around the age where bears die, but Bart does have cubs whom will probably be introduced to the screen in the future.
—————————————————–
Trivia
Weighed over 1,700 pounds as an adult.
Bart died during the filming of the documentary Growing Up Grizzly (2001) (TV) which was presented by Brad Pitt – who plays Tristan Ludlow in Legends of the Fall (1994), the character that is killed by Bart at the end of the film.
Little Bart the Bear who had a cameo at the end of Dr. Dolittle 2 (2001) was named after Bart.