Posted in
Random
on February 29th, 2004 by admin
I always feel bad when I do an "obligated" update, but there has been too
much social interaction in the last few days for me to just ignore it.
In Chronological Order:
– PJ, regardless of how I sounded, Keller Williams doe snot sound like early
dave mathews. Frankly, it bothered me that he had a song based loosely on my
middle name. I overreacted, I'm Sorry. No one deserves to be connoted with Dave
Mathews.
– Sara M, Dirty Rotten Scoundrels is our Common Bond. Let it never die. However,
I would like to note that I feel no different than a year ago, and my beard
should not dissuade you. I still wear shorts when it's 10 Degrees, and Poke Fun
at Jerry. Only now, I wear a different jacket and Hate American Idol even more.
I'm glad to say, Mischa Barton does, indeed, keep the OC bearable. Oh Two
Things: A skirt and Pants? and… Wow, you were Super Hyper when you saw Me and
J-Dawg. Of course, it was 24 Degrees, So I wont fault you for squirming like a
kielbasa on a hot griddle.
Jenny – Although Initially Pained by your Comments about different people
disliking me ( I don't mind being hated, as long as its for my Fascist and
Politically Incorrect temperament) I quickly recovered and realized your company
added an uncanny dynamic into the intricate pre-off campus social web. Sweet,
Sweet, memories. Sweet, Sweet, Free candy on the 1st Floor.
Kona, perhaps the only example of a successful JMU graduate. It all boiled down
to when you asked for a menu item that didn't have the word "Gigantic" in the
title. For many reasons, you epitomized what was Right, and what was wrong with
the World We Live in. I applaud you, but I still believe your Dog is in fact
Male.
Jerry, Your shenanigans never get old. And, you owe me at least 3 Dollars.
——————————
There's nothing better than the feeling you get from buying 3 donuts and coffee
from a gas station at 12:40 in the AM. Case Closed.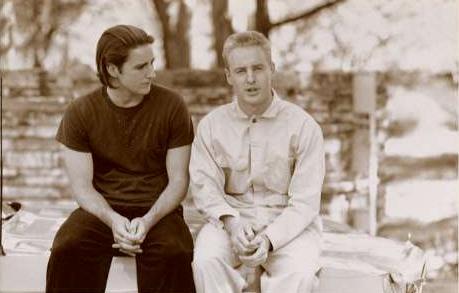 Anthony: "One morning, over at Elizabeth's beach house, she
asked me if I'd rather go water-skiing or lay out. And I realized that not only
did I not want to answer THAT question, but I never wanted to answer another
water-sports question, or see any of these people again for the rest of my
life."
—-
Oh, where can I get one of those wonderful jumpsuits?