Have you ever felt really awkward asking your professor a question about
sexuality?
No, neither Have I. What kind of sick bastard would lay that onto an
unsuspecting individual?
Anyway, I was asking my Russian Transitions Professor (She is Russian and She
Teaches Transition from Socialism, it's Sadly Ironic) and when I asked her for a
handout from the previous class, she responded with,
"And why werent you in class on Monday?"
I responded with a quick lie,
"I was sick, had to take the day off."
Which, in fact, was totally unnecessary – I had actually missed class to
perform a job interview over the phone. But instinct is instinct, and I feigned
Illness.
At the moment I said this, I simultaneously removed my Hat to show her the
proper courtesy. Unfortunately, I neglected to remember I had recently shaved my
Head. And my Beard.
And that I was currently inhabiting a frame somewhere between 127 and 132
Standard Pounds *
…
You had to be there, but everything came together to nuance the fact that I
was undergoing Chemotherapy.
Yes, I have Cancer. Imaginary Cancer. The Deadliest Kind. **
End Result –
Instead of Receiving the Handout – I received her Personal Copy of the
Textbook it was drawn from, plus, the option to do the assignment based upon it,
"If I was feeling up to it."
—
I've Seen Wit. Cancer is Horrible. But I'll be damned if I tell that
poor woman her pity or empathy was misplaced.
To Illustrate – Here is a Random Picture of Me where I believe*** that I look
like a cross between John Travolta and Viggo Mortensen,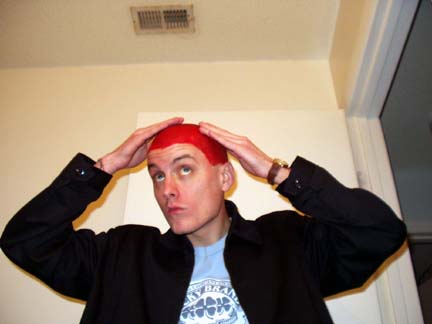 Magua
—-
* Thank You "Eat Less, Fatty" by Paul Church.
** Not Deadly
***Wish Were True, but not because I want to be that Good Looking, rather, I
wish to be Rich out of My Ass. And Possibly the King of Middle Earth – or really
good at dancing.
—-
Travolta did his Best work with that
Haircut.