Thanksgiving is coming up, which means its finally time to watch the Cowboys
beat the crap out of somebody (they're about 67-2 on thanksgiving day) and the
magnificent meat-gorging and potato-spooning meal of awesomeness that we all
enjoy on the 4th Thursday in November. For most people, this means a 2 day
Holiday (One if you're in banking and finance, and about 3 if you're a student),
but even greater than that it means that we can give thanks to the Native
Americans who kindly bestowed upon us the secret art of "growing food and not
starving to death." Unfortunately, we subsequently murdered and exiled
them after that, but we did not murder that god damn delicious turkey recipe
(the one where you insert a chicken carcass into a duck orifice, and the duck
carcass into a turkey orifice – John Madden Style).
In honor of all this, I watched The Last of the Mohicans and the scene
in Predator when Billy dies (he's Native American, that's why he can
smell Invisible Aliens). After all this, I plan to make a sacrifice to
Squanto and to burn a copy of The Indian in the Cupboard upon an altar of
European Scalps and Buffalo Hides. I invite you all to do the same (or
come watch me do it – if that's you're thing, you sick bastard).
—
This week:
* Sungard took myself and two coworkers out to A very nice (500 Dollar?)
dinner and front row, behind the goal, seats at a Caps Game (125 a
piece?). Wow, I wish had that kind of money to blow.
* I made the best pizza ever
* Mr. Louis and I agreed I'd work the day after Thanksgiving, in exchange for
the day after Christmas (is observed).
* Here's a picture I found of a typical female (could it be male?) Steelers
fan. I hope a certain Pittsburgher whose name starts with 'P' wretches and
projectile vomits after seeing this. No offense.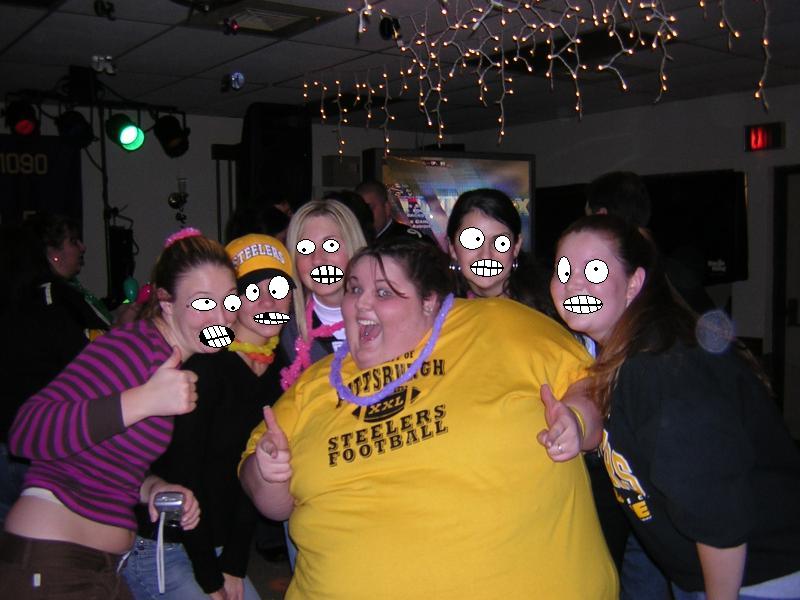 "I LOVE HINES WARD AND BEN ROTHLISBERGER SO MUCH THAT I
ATE THEM!
THE POWER OF COWHER IS INSIDE ME AS WELL!"